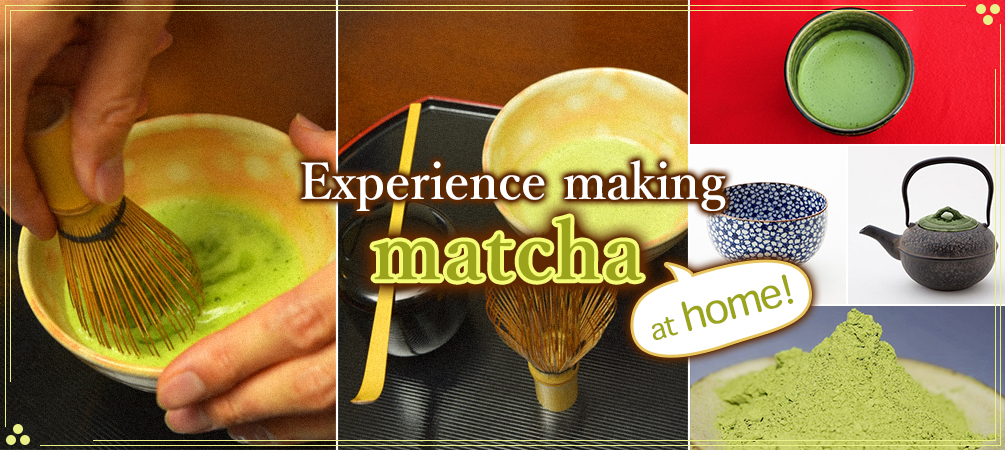 Enjoy easily in your own home!
Experience Making Matcha Tea Special Feature
Food, Regional Produce

2017.1.16
Matcha tea is popular as one of the typical tastes of Japan. It has great compatibility with snacks and chocolates, so has been accumulating fans around the world as an ingredient used in sweets. Also, in recent years, "tea ceremony experiences" have been gaining popularity as an activity for tourists to do when they visit Japan.
This time at WOAH! JAPAN, we bring you various tea ceremony utensils, not only for those interested in experiencing tea ceremony but also for those who feel tea ceremony is too difficult to do, that allow you to easily enjoy doing it at home!
Take this chance to incorporate matcha tea into your daily life!
Easier than you'd think!
The matcha you make yourself will taste exceptional!
It's easy! How to make tea
Matcha Tea Powder
Chasen Whisks
Matcha Bowls
Tea Pots
Tea Scoops
Tea Canister/Sieve/Chasen Holder
●If you want to know more about matcha, please read our other special!
Customer Suggestion Box
At WOAH! JAPAN we wish to receive suggestions from users regarding matters you would like us to feature.
Please send an email to the email address below to inform us of Japanese items, matters etc that you are interested in.
Please kindly understand that we will not respond to your email.
info_en@woahjapan.com